The Architectural Building Company was formed in 2008 by Colin Moors and Rob Hall.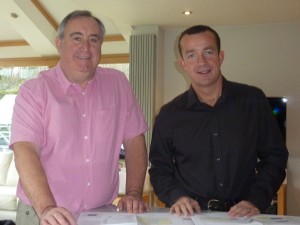 Colin, a Chartered Surveyor, is the owner and Managing Director of Adamson Construction and Adamson Interiors Ltd. With over thirty years of experience in the construction business, the companies now employ in excess of thirty members of staff. Adamsons provide a range of building and home improvement services from the supply and fitting of new kitchens and bathrooms, through to the building and fitting out of substantial home extensions.
Rob is an airline pilot by profession, but has also held a number of senior executive positions in British Airways PLC. Rob has built and renovated a number of homes with his family in the local area over the last ten years. During this time, Rob has developed a thorough knowledge of the local market in addition to building a network of contractors and suppliers.
Rob and Colin have put together a group of professionals who can create inspirational family homes. This includes designers, technicians, craftsmen, builders and garden designers. Their team is passionate about creating individual homes of great character and quality and ensuring these exceed the expectations of their new owners.
Rob designs each house from a blank sheet, positioning and designing the house to make the most of the site layout. Each home is designed retaining core principles such as the use of vaulted spaces to generate natural light, but each one is completely individual, whilst retaining a
signature look, which is becoming a recognised style in the local market.
Construction manager Paul Marshall ensures each house is built to exacting standards, through a passion for quality and attention to detail. Our garden designers will ensure the house sits supremely in its grounds, creating many areas of interest and maximising the available views.
We are passionate about the homes we have created to date and we are supremely confident that this combination of passion and professionalism will give you the confidence to put your faith in us. You can be sure we will turn our vision into a stunning individual house you'll be proud to call home.
For any enquires or more information, please send an email to enquiries@architectural-homes.co.uk or call 01243 933001